WHAT IS A STAFF TRAVELER
If you are a staff traveler, your name will not appear in the "Itinerary For" field in the EDIT ITINERARY BOX. Only regular traveler profiles will populate in that field.
WHY YOU SHOULD ADD YOURSELF AS A STAFF TRAVELER
Often times, advisors will add themselves to their client's itineraries for easy reference on the app. Unlike your clients who are regular travelers, you don't want your name to appear on their itineraries.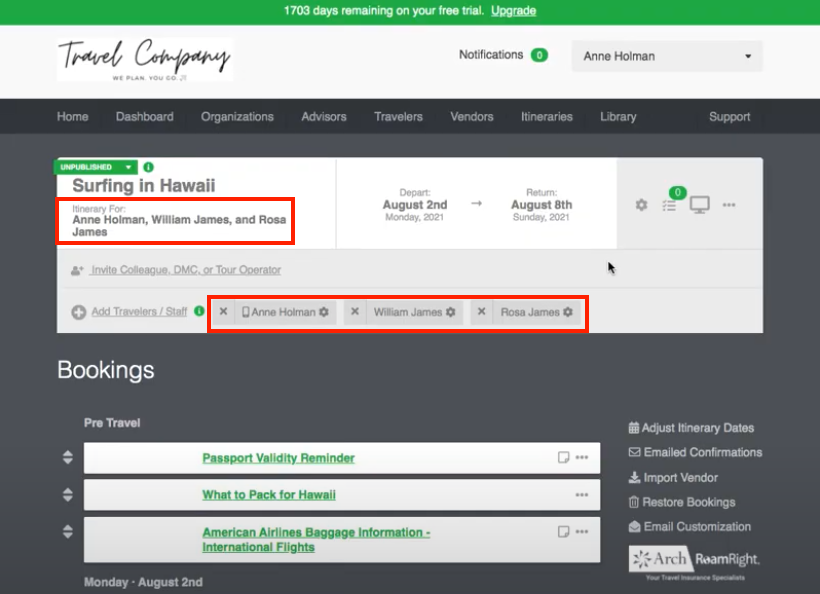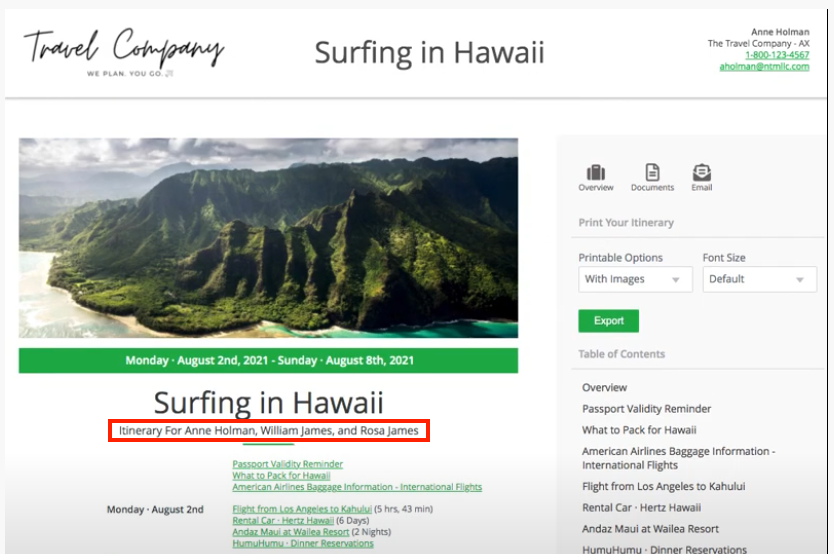 So, mark your traveler profile as "STAFF TRAVELER" by clicking on your traveler box and checking "Staff Traveler" in the bottom left corner of the Edit Traveler pop up window.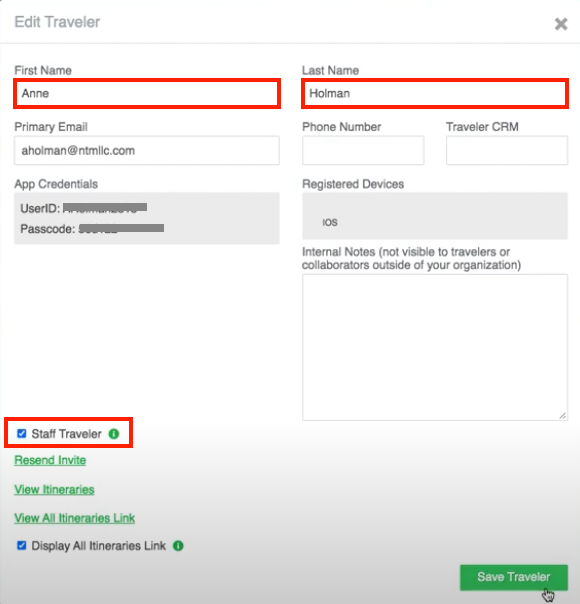 Since Staff Traveler and the Regular Traveler profiles are in the same section, STAFF TRAVELERS will appear in the front. Look for the "person inside a circle" symbol.
Also, your name is no longer under "Itinerary For."
ANOTHER OPTION: ENTER NAMES MANUALLY IN "ITINERARY FOR" FIELD
To prevent your name from displaying on the itinerary web view and pdf, use the Edit Itinerary (Gear icon) to open the itinerary level window. In the "Itinerary For" field, enter the traveler names just as you would like them to appear on the itinerary's pdf and web view (i.e. remove your name from this field if it displays).

Instead of allowing the regular traveler profiles (William James and Rosa James) to populate, you could delete the names and add something else: The James Family.
REMINDER: PAST TRIPS AS WEB VIEW LINKS
As a reminder, both STAFF TRAVELERS and REGULAR TRAVELERS will both view all past itineraries via the updated mobile WEB VIEW FORMAT. This data is not stored on your phone, keeping the bandwidth directed to your future itineraries.