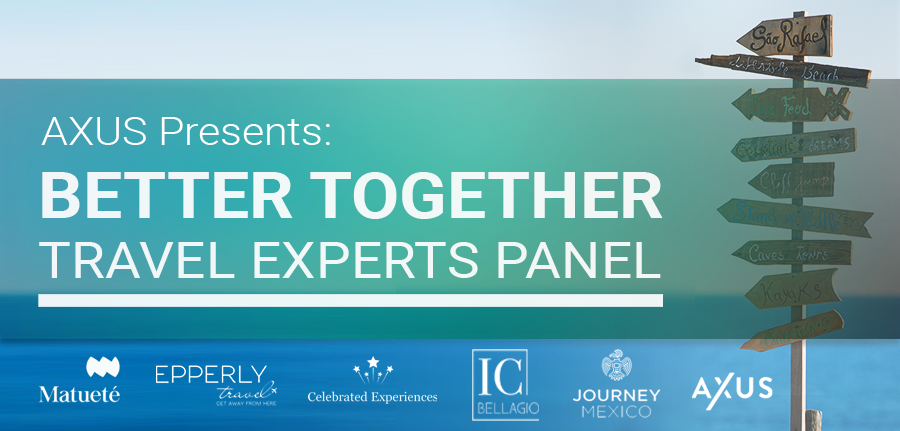 -On-Demand Webinar-
Recorded on May 19th, 2020
Listen to various perspectives in the travel industry in a virtual round-table setting to discuss current hurdles along with the realities we may face in the post-COVID-19 recovery. Discover core insights on how to best work together and help nurture the future of our travel landscape.
Discussion Topics:
- Share Current Recovery Efforts & Best-Practice Insights
- Fostering More Productive Collaboration Between Suppliers & Advisors
- Adapting to the Change in Consumer Preferences
- Appropriate Preparation for Peak Performance
Moderated By Julia Pirrung
AXUS Founder and Jet Set World Travel President


Julia founded Jet Set World Travel in 2005 and has crafted highly detailed itineraries that allow her to showcase the depth and breadth of her knowledge and experience in planning safaris, honeymoons, landmark celebrations, and multi-generational family trips. In addition to being president of Jet Set, Julia set out to simplify the collaborative effort of itinerary building and proposal process for herself and the rest of the industry by creating AXUS Travel App in 2014.



-Panelists-
Bobby W. Betenson
Founder and Special Operations Director of Matueté

Bobby has a European background but was born and raised in Brazil. He graduated in Hotel Management in Switzerland and ran safari lodges and urban hotels before founding Matueté in 2001. In nearly 20 years on business he has moved through all the different areas of the company which does both inbound and outbound as well as Villa Rentals and events planning. Bobby is currently heading the business as a whole, working closely with his team leaders in each of the different business units.

Lindsey Epperly
Founder and CEO of Epperly Travel

Lindsey Epperly is the founder and CEO of Epperly Travel, a modern travel agency that specializes in customized vacations across the globe, and the co-founder of EntreTravel, a training program built to teach travel advisors the entrepreneurial skills necessary to succeed. The Epperly Travel team has been operating off of a remote workplace for years, creating a virtual culture that allowed them to quickly pivot during the events of COVID-19, revisiting the way in which their mission could allow them to add value to clients, peers, and their industry as a whole during a time when their products and services are on hold due to the outside circumstances.

Jonathan Epstein
Chief Executive Officer of Celebrated Experiences
Jonathan and his team collaborate with travel advisors to personalize exceptional itineraries in England, Ireland, Italy, Scotland, and Wales. For 30 years, Celebrated Experiences has curated (and annually inspected) an elite collection of castles, manors, boutique hotels, country houses, grand hotels, and apartments. Their handpicked guides are diverse, entertaining, and matched to each client.

Andrea Grisdale
Chief Executive Officer of IC Bellagio


Andrea Grisdale, Sole Founder & CEO of IC Bellagio recently celebrated 20 years in business. A very proud Partner Supplier of Virtuoso, Signature Travel Network, the Regional Member for Italy of World Travel & Tourism Council (WTTC) and named as one of the Top Specialists in the World for Italy on Conde Nast Traveler, Travel & Leisure and Wendy Perrins' Wow List – Andrea and her amazing team are based in Bellagio on beautiful Lake Como in Northern Italy and together they create over 2000 FIT Italian Experiences annually orchestrating the perfect pairing of Traveler and Experience to provide Unparalleled Access to Authentic Italy.



Zachary Rabinor
Founder, President, & CEO of Journey Mexico


Zachary Rabinor, was seduced early on by Mexico's vibrant cultures, towering peaks, thundering surf and intoxicating cuisine. Zach founded Journey Mexico in 2003 with the vision of sharing his love of Mexico with travelers from around the globe and opening the world's eyes to the unexpected cultural, natural, adventure and luxury travel experiences that Mexico offers. Under his leadership, Journey Mexico has quickly become a leading Mexican Travel Company serving the high-end and V.I.P. markets as well a host of the finest educational and non-profit institutions. Zach's experience spans his fondly remembered days as a tour leader and guide; his studies as an ecotourism specialist with a B.A. from Cornell University and an M.P.I.A. from the University of California, San Diego.