You now have the ability to customize the automatic email that is sent out when you publish an itinerary for a traveler.
REMINDER:
This custom email feature is at the user level. So, every advisor within the same organization can have their own custom email for their travelers.
Complete the following steps:
Log on to the Axus Website.
Go to your name located in the top right corner.
Select PROFILE.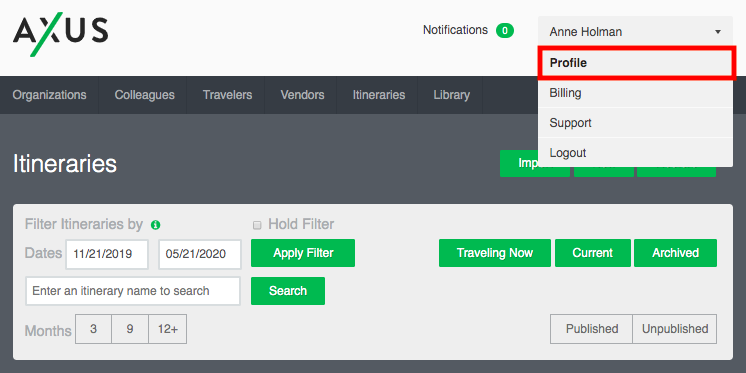 Scroll down to the third section labeled: "Customizing Automatic Email When Itinerary is Published."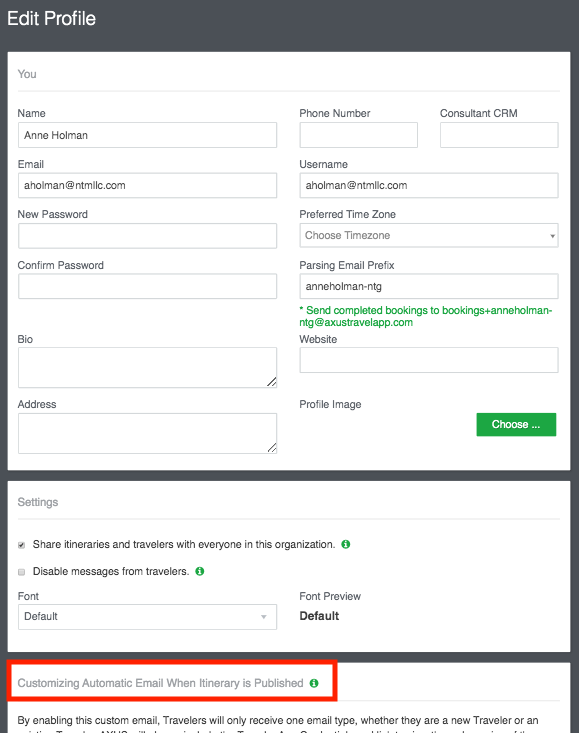 Check the box labeled "Enable Email Customization."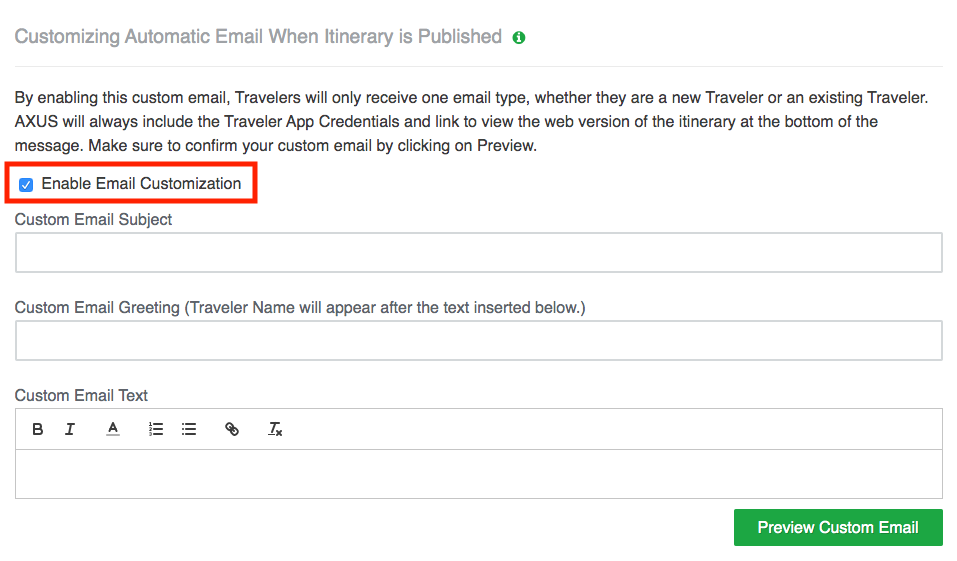 Under the CUSTOM EMAIL SUBJECT, type the title of your email.

For example, you could type: "Welcome to your Axus App."
Under the CUSTOM EMAIL GREETING, type a greeting to your traveler.
Examples you can use: "Dear, Hello, etc."
If you are using a different language, type greetings such as: Cher/Chère, Prezado(a), Olá or ¡Hola!

Under the CUSTOM EMAIL TEXT, write out your email to the traveler.
When you enable the custom email instead of relying on the standard Axus emails (The first email is when a new traveler receives their first Axus itinerary. The second email is when a repeat traveler is notified about a new itinerary on their app.), your traveler will receive a unique email that you'll customize in this section. You won't have two versions of the email, so keep this in mind when constructing your message.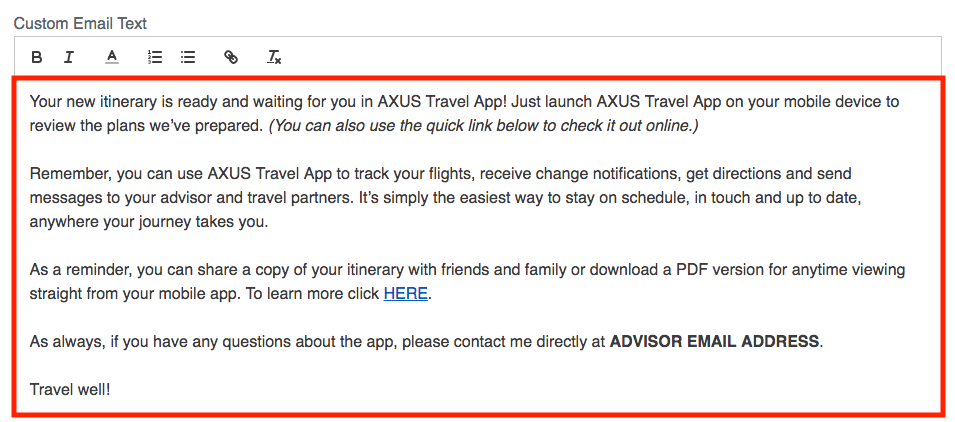 Preview your work by clicking on the PREVIEW CUSTOM EMAIL button. This will open up in a new window.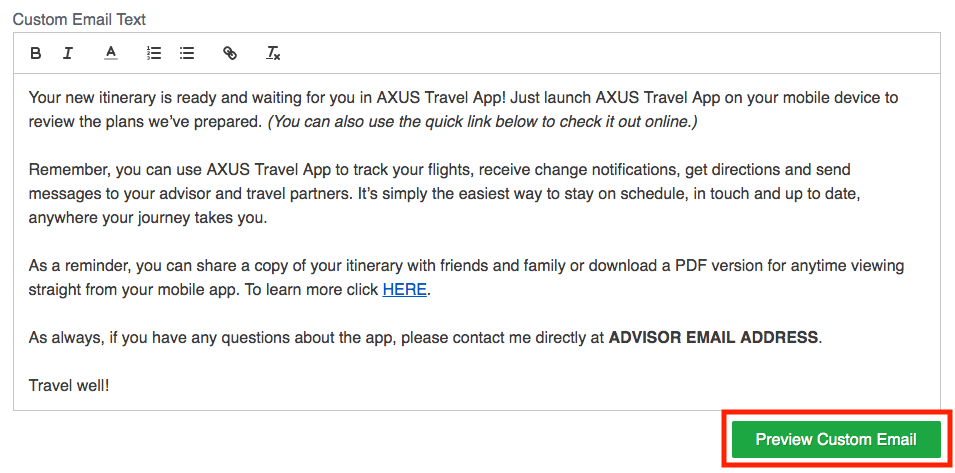 When you go to preview mode, TRAVELER is written in place of a client name since you aren't in a specific itinerary but in your advisor profile.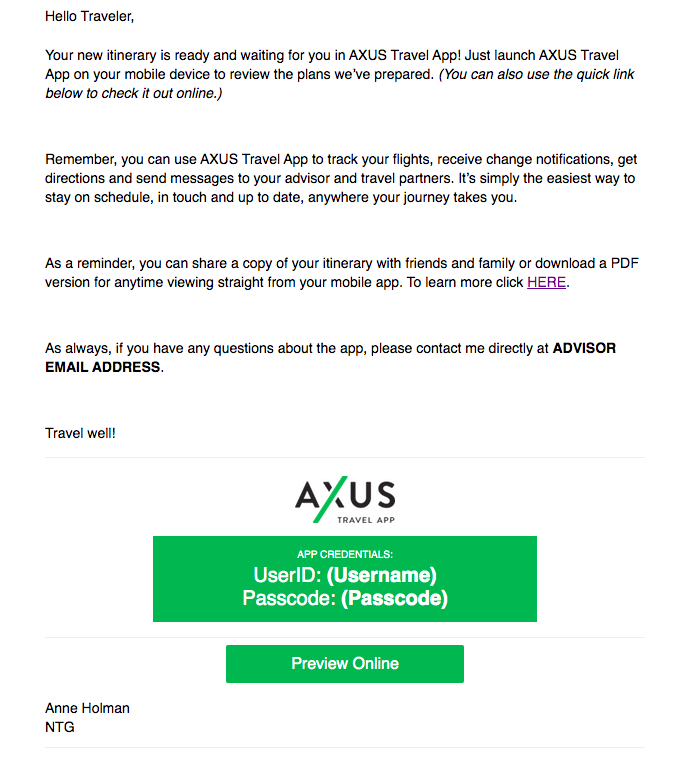 If everything looks correct, go back to your initial window and click the SAVE button at the bottom of your EDIT PROFILE box.

REMINDER:
Every email will include content from Axus: the Axus logo, the Traveler's unique App Credentials, and a web view link of the itinerary.
IMPORTANT NOTES:
If you are fine with the standard email that is sent to your travelers, do not check the "Enable Email Customization" box.
This feature won't be turned on for organizations that have a White Labeled App. (You already have your own custom email provided by your company.)
ADD ON:
In the Custom Email Text example above, the word HERE is hyperlinked to a helpful support article. You have the option to embed the following link in your email.
https://support.axustravelapp.com/hc/en-us/sections/360003526172-How-to-Share-Itineraries-and-Download-the-PDF-from-the-Mobile-App
Here is the process: