The newest enhancement, our Public Library feature, will allow you to mark your Library templates as Public in a matter of seconds with a simple click. These Public templates can be viewed by all of our luxury advisors to reference or even insert into a sample itinerary or proposal in their account.
Please take a look at our article for Travel Advisors to view how it works from their end.
See below screenshots of your setup in your Axus account when the Public Library is turned on for you.
Marking your template Public (all your templates will continue by default to be Private and you simply need to click on the icon to turn Public).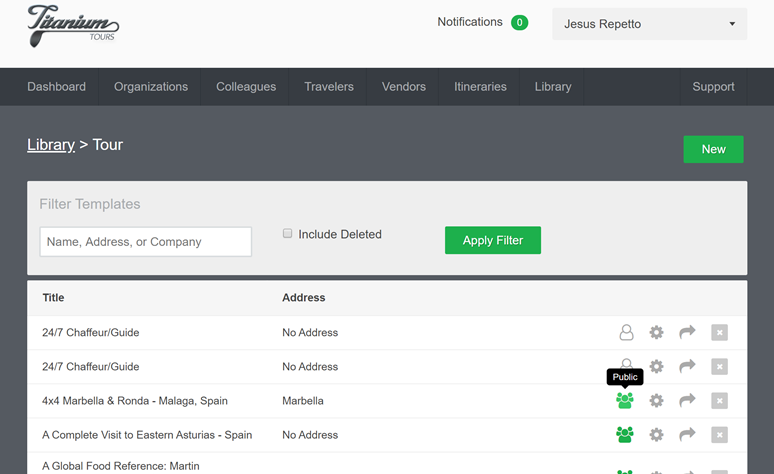 In your Organization tab, by clicking on Edit, you can set a specific name for your company for what Advisors will see and also a description for when they select your Library.

Please contact Bruno Mathieu Roy at broy@ntmllc.com for more details and pricing.
AXUS has enjoyed significant growth since launching in 2014, on both the agency and TO/DMC side. We have more than 5500+ travel advisors using AXUS in various markets around the world. We are preferred partners with Signature, Virtuoso, Traveller Made, and Travel Leaders Group.
Many times, it can be quite difficult and costly to spread awareness of your brand and easily provide visibility of your services at scale. Our Public Library, represents a large opportunity in helping to garner this awareness from the AXUS network of luxury advisors, being present in the tool they rely on and access daily for most.
Additionally, if your organization is well-positioned and known, participating in our Public Library will simply give advisors a higher speed and efficiency. This allows your team to provide a better service and it could save countless hours in back-and-forth communications with advisors.