If you receive an error on your iPhone while using the app such as "invalid credentials," please answer the following:
Have you entered in the correct UserID and Passcode?
Letters are case sensitive. Please enter your app credentials exactly how you see them.
If the UserID calls for a space, add an underscore: "_" between the characters.
Make sure to distinguish between the number ZERO and the Letter "O" for Oscar.
Make sure to distinguish between the number ONE and the letter "I" for India.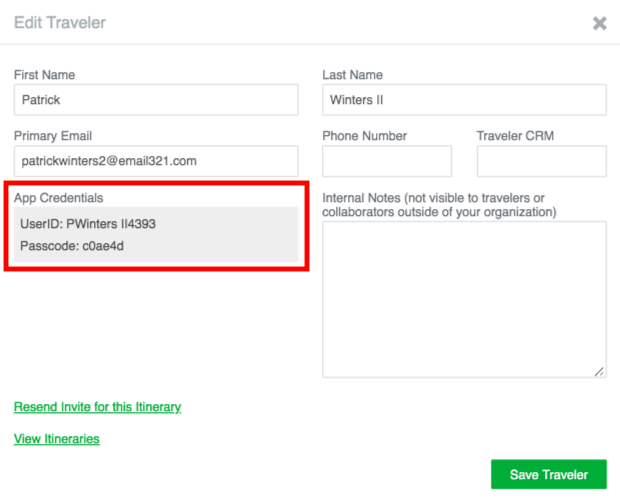 In the example above, you would enter in the UserID this way: PWinters_II4393
(Use the underscore "_" in the space between PWinters and II4393)
For the Passcode, you would enter: c0ae4d
(Make sure to type a ZERO, not the letter "O")
Questions regarding your iPhone device:
1. How much storage do you have available on your iPhone?
In the "ABOUT" section, you can check your storage capacity below to see how much room you have left on the phone.
Settings / General / About
2. What version of the iPhone do you own?
Update your IOS:
Is your iPhone IOS up-to-date? The minimum needed is at least an IOS Version of 8.0.
To check your current IOS version, go to:
Settings / General / About
You will see "Software Version" listed there.
To make updates, go to:
Settings / General / Software Update
3. Are you currently on good WIFI or have a strong data signal when you load your itinerary on your iPhone?
You can uninstall/reinstall the app.
Delete the app and install it again.
Completely turn off your iPhone and turn it on again.
It never hurts to turn off your iPhone for a complete shutdown.
Delete past itineraries:
If you have dozens of past on your app, ask your travel advisor to remove yourself from your past (archived trips).
This will remove the past trips from your app, essentially "freeing up" room for the app to display your current itineraries and receive any updates.