To copy a booking or bookings, select the 3 dots icon and "Copy Itinerary" 

A pop up window will appear where you will select individual bookings OR all bookings within an itinerary to copy to an "Existing Itinerary" or a "New Itinerary."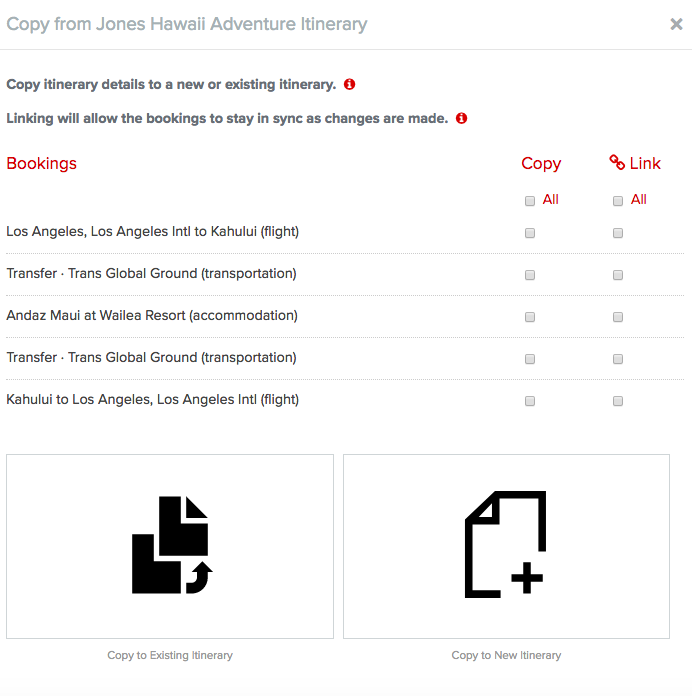 When copying to an Existing Itinerary, you will be asked to type in the name of the itinerary you would like to copy the bookings into. As you type the itinerary name, a drop down list will appear - select the itinerary in which you would like the bookings added to. 
AX-PERT Tip: If you are working with multiple itineraries with the exact same title, you will first want to add a traveler last name or any identifier into the title of each itinerary. This will allow you to easily know which itinerary you have chosen to copy the bookings into. 
--------------------------------------------------------
A new booking that has been copied but NOT Linked will have no connection to its original booking. 
For more information on creating bookings that are in-sync with one another, please refer to our article on Linked Bookings. 
Items to note: 
Users can copy/link to a EXISTING itinerary when the itinerary is under their ITINERARIES tab (i.e the user must be a collaborator or the primary advisor of the itinerary)
Supporting documents, guides, and travelers profiles will not transfer into a new itinerary when a booking(s) is copied
*When copying an itinerary from an archived itinerary the copied itinerary will have all of the dates stripped out so that you can assign future dates